These are some fine motor activities that I used for my toddler between 1-3 years old. Activities are broken down by categories and level of difficulty. I have a suggested age range with each activity, but always observe your child and to find out if they may be ready for an activity earlier or later, every child is different!
POSTING (putting objects through holes)
Pom Poms in yogurt container

Age: 1-2.5 years old

A one-year-old will enjoy putting the pom poms through the holes. For the older child (2 and above), you can color the holes and the child can match the pom pom to the hole. Note: I created the holes by punching an outline with a pin until I was able to remove the plastic hole.
Craft sticks in yogurt container

Age: 1-2.5 years old

The same as the previous activity, you can get colored craft sticks and color the holes to create a sorting activity. Note: The holes were created with an exacto knife.
Pegs into bases

Age: 1.5-3 years old

Placing pegs into the holes on the foam bases.
Flower stems/pipe cleaners into colander holes

Age: 1.5-3 years old

I first tried doing the pipe cleaners and they were frustrating because they would bend and not go through the holes easily. I got some fake flowers and it was enjoyed more.
Shape sorters

Age: 1.5-3 years old

These took longer to get than I expected, usually closer to 2-2.5 years old. The one on the left is from IKEA and we found it frustrating because the roof would slide off and it was hard to put the shapes in at an angle. The one on the right I got secondhand and was easier to use since all the shapes were on the same flat surface.
THREADING (putting an object with a hole through another object)
Ring/shape stackers

Age: 1-3 years old

The two on the left are of interest for a 1-year-old, though a 2-year-old might enjoy trying to put the rings in order. The one on the right can be used by a 1-year-old, but the older child may enjoy sorting by color as well.
Gears

Age: 1-2 years old

Placing the gears on the pegs and turning them.
Penguins on pegs

Age: 1-3 years old

This is from a counting game that I happened to have for older children. It comes with some "ice cube" blocks with pegs on each cube. The penguins can be placed on the pegs.
Stringing beads

Age: 1-3 years old

A 1-year-old may be interested in trying to get the beads on a pipe cleaner. A 2-year-old may be ready to place the beads in a string. I started out with some beads that were wider than the string then moved onto beads that just fit through the string.
Advanced shape stacker

Age: 1-3 years old

An older 1-year-old may be interested in exploring and getting some of the pieces on. A 2-year-old may start sorting them correctly, my child mastered it around 2.5, but still enjoys doing it at almost 3.
Hanging ornaments

Age: 2-3 years

I got this coffee mug tree and some ornaments to hang on the pegs.
Lacing cards

Age: 2-3 years old

A 2-year-old can get the string through a couple holes, but then it seems to get overwhelming. This may be more interesting to a 3-year-old.
Finger puppets

Age: 2-3 years old

It's like lacing your finger through an object.
NESTING
Age: 1-2 years old

These boxes were from some packaging that I had.
OPENING/CLOSING

Variety of purses/wallets

Age: 1-3 years old

I either already had these on hand or I got them second hand. Each purse has a different opening: velcro, zipper, snap, clasp. The velcro wallet also has card holders in it and I put junk cards that I got in the mail in them. The child enjoyed sliding them in and out.
Plastic eggs and carton

Age: 1-3 years old

At first the children enjoyed opening them or putting them into the carton. A 2-year-old can start trying to out them together.
Latches board

Age: 1-3 years old

From Melissa and Doug. Has 6 different latches to open. This was enjoyed for a long time by both 1- and 2-year-olds.
Containers and lids

Age: 1.5-3 years old

These are from a variety of containers I had around the house. I tried to make sure the openings were distinct so it was obvious which lids went with which container.
Nesting dolls

Age: 1.5-3 years old

This could also be used a nesting work by an older 2-year-old, but for most the toddlers they enjoyed trying to match the lids and put them together.
USING TOOLS
Hammering
Age: 1-3 years old
These are all the hammering benches I tried out. In the beginning the children enjoyed pushing the pegs down with their hands. Sometimes they would also take the pegs in and out of the holes with their hands. Closer to 2 and sometimes older, they would be interested in using the hammer.
TRANSFERRING
All these activities were introduced no earlier than 2.5 years old. Before then, the children would do transferring as part of concrete activities as part of food prep or pouring water for themselves.
Hand or finger transfer with noodles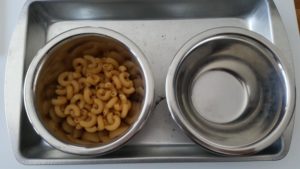 Finger transfer seeds with ice cube tray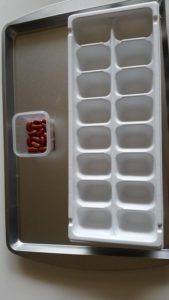 Pouring noodles