Welcome to a tour of how I set up my toddler's bedroom, using Montessori for inspiration!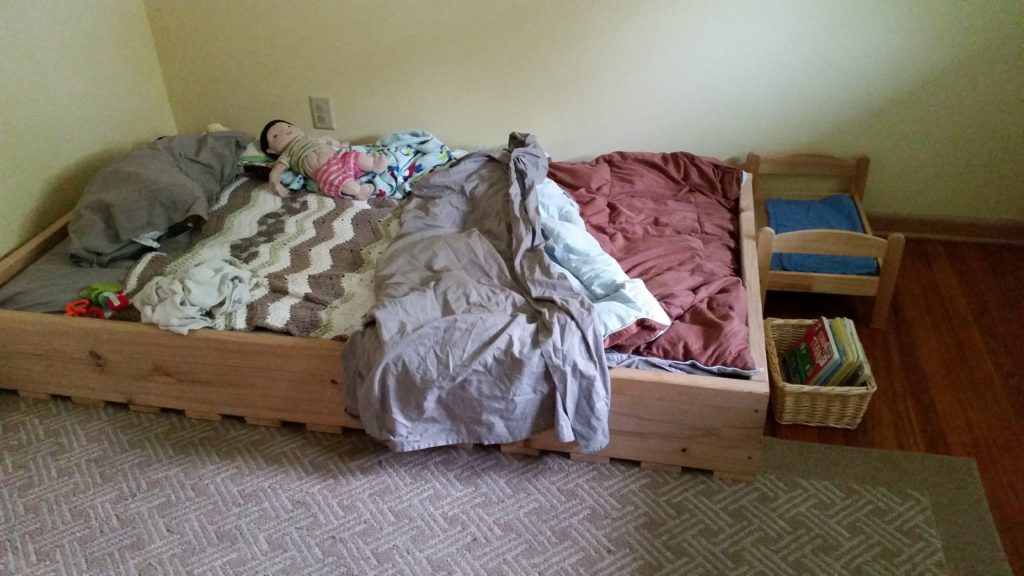 First, we have the floor bed. Our child started using the floor bed for naps around a couple months old and then at night around 6 months old. We added blankets and a pillow after they turned 2 years old. Before that it was pretty much just a mattress. The homemade frame is used to help them stay in the bed and also to provide air flow for the bottom of the mattress. We started with a crib size mattress, but that grew small quickly so we got a twin size.
You don't have to have a floor bed and for some children, the crib works out better. Sleep is very important and if we were struggling, I would definitely try a crib. The reason we use it is so our child would not have to rely on us if they woke up in the middle of the night. If they didn't need us, they would just play until they fell asleep again. Same thing with the morning, they usually just play around for awhile until we wake up. It was also handy when our child was very young. When we were breastfeeding, I could easily lay down to breastfeed to sleep and then get up and leave (or sometimes I would even fall asleep there and it wasn't so bad since I was on a mattress!). We have a basket of books and a bed to put dolls in by the bed.
| | |
| --- | --- |
| | Next we have the windows. I use black out curtains to create a dark space and I also place blankets around the window to fill in light gaps. We also have blackout roller shades under the curtains. We like it dark, plus it acts as an insulator from cold winter air. We have a chair in the corner for reading, but my child doesn't really use it much. I have low hanging art for my child to enjoy. I use plastic frames and found photos from old calendars I had. Having things at child height communicates that this space is for them. |
This is my child's "closet". The child size allows them to independently help with dressing themselves within appropriate choices (given the weather for the day) without getting too overwhelmed. It also helped my child learn how to put clothes away and hang things when they were able to. I used a 4 cube Kallax from IKEA and removed one of the shelves on one side. We also drilled out a hole and placed a hanging rod. On the left side, there is a basket of socks and underwear on top and a basket for pants on the bottom. For shirts and pants, my child seemed a little overwhelmed at first with choosing so I started with just one of each. Around 2.5 years old, I started adding 2 of each to choose from. My child has had no problem grabbing socks and underwear from the selection, but if they did, I would have limited it too.

I also have a white noise machine that we use at nap and another piece of low hanging art. My child does not mess with the plug, however before 18 months old I velcroed fabric to the back of the shelves and put the shelf in front of the plugged in items and did not have a problem. When we moved at 18 months, I took the fabric off and never got around to putting it back on since it wasn't an issue.
| | |
| --- | --- |
| | Here is a photo of my child's actual closet. This is where I store all of the clothes. Shirts are hanging and sorted by sweatshirts, long sleeve, and short sleeve. In the baskets below I have pants, shorts, footed pajamas, and 2 piece pajamas. On the top shelf are extras and accessories. |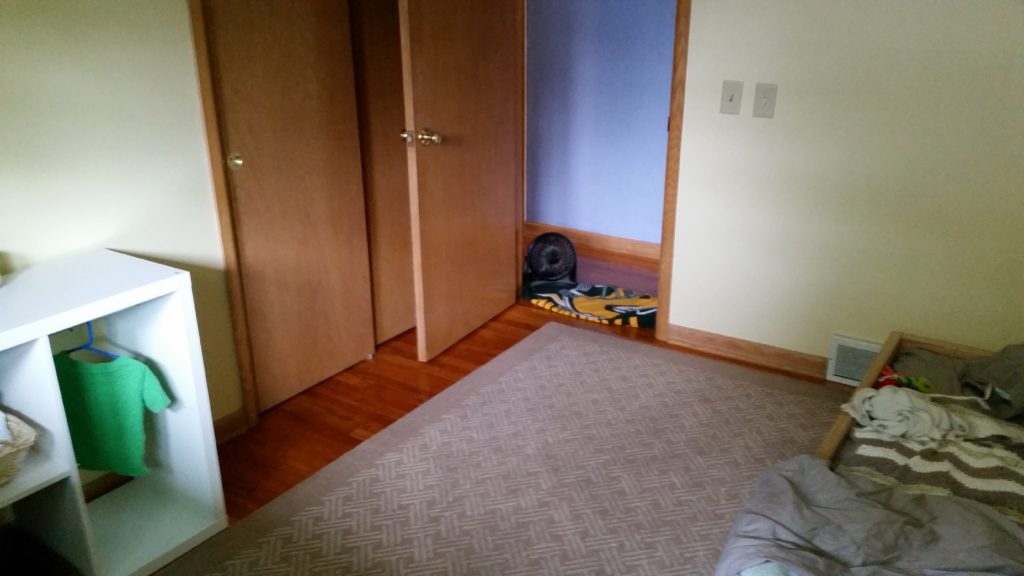 This is a view looking at the door. We have a fan outside the door that we use for white noise as well and a blanket to block light coming in under the door. We had the fan in the room when my child was younger to help provide air flow and prevent SIDS.
On the back of the door we have mirror for dressing, brushing teeth, and brushing hair. We also have a camera so we can see in the room when the door is closed. We drilled a hole in the door so that we can plug in the camera outside the room.

You may have noticed that we don't have any toys in the room. Before we moved at 18 months, we lived in a 2 bedroom apartment so we kept most of the toys in the bedroom there. These toys were on the other side of the room and they didn't really seem to bother with sleep that much. We currently have more space to put the toys out of the room so we no longer keep them in there. I keep questioning whether I should put some in so my child has more to do if they wake up early, but so far it doesn't seem that needed. On days when my child takes a short nap, I do put some toys in the bedroom to give them (and me!) a little more downtime. So I would see what works for you and family when it comes to toys and bedrooms.